The story of how I saved money, quit my job, sold my possessions, and set off to endlessly travel by bike around the world. My Plan
My 3 Books
I write, self publish and sell books about touring
HOME
Where am I?
Videos
Picture Gallery
Journals
Travel Plan
Finances
Shopping
Equipment
My Books
About Me
Media/Press Room
Contact
Subscribe to Newsletter
Read Sample
Continue My Travels
---
Places I have been
(How can I afford this?)
India and Neighbors
May 2010 to present
Alaska / Canada / USA
May 2008 to April 2010
New Zealand
Sept 2007 to May 2008
Australia
Sept 2006 to Sept 2007
SE Asia / China
Nov 2004 to Sept 2006
South America
June 2003 to June 2004
AZ, Mexico, and Central America
March 2002 to April 2003
How I started
The 5 years before I left
---
Sign up for my RoadNews Newsletter


Written on the road as I travel around the world on my bicycle
---
*Help Support this Web Site and Continue My Travels.
---
Equipment Pages Index
Introduction
How Much to Bring and Weight
Some Advice About Advice
A Note to Perspective Sponsors and Gear Suppliers
(See more about Sponsorship)

START HERE for Touring Bikes and Commuting Bicycles
Custom Touring Bicycles and Bike Upgrade Buyers Guide
Bicycle Touring Frames
The Steel Repair Myth.
Steel and Aluminum Derailleur Hanger Repair.
Bicycle Touring Wheels
Phil Wood: The Best Bicycle Hubs

Panniers / Bike Bags
Cargo Trailers Vs Panniers
Tires for Bike Tours..
Bicycle Touring Saddles.
Women's Specific Bike Touring Saddles
Brooks Leather Touring Bicycle Saddle Care and Conditioning
Bike Computer
Touring Handlebars, Bar Ends, Adjustable Stems, and Padded Grips.
Kickstands
Sealed Cartridge Headsets
How to prevent flat tires
Bike Route Trails and Maps
Camping
Buying Camping Equipment
Tent and Ground Cloth
Sleeping Bag
Sleeping Pad
Camp Stove
Pots and Pans
Water Filter
First Aide Kits
Solar Power for Camp

Clothing
Bike Touring Shorts

Electrical
Short-wave Radio
Computer
Internet
mp3
Bicycle touring lights

Books
Packing list
Pictures of Equipment Failures
Shopping
---
Short term you could have sombody at home
will always need address
If you are long term Everything has to be accessed on the internet
ATM card
Credit Card do not have a job so no more cc our visa refinance
no jom no refinance or visa card
Taxes Banking Security carrying exchanging money Health Insurance
budgets
pull money out once a week and live on what is in your wallett
dummy wallet
exchanging money best with atm card
used to use travelers checks
stash of cash US and local
No matter how much you try to escape from it on your bike tour, money matters! For safety, it is a good idea to carry as little cash as possible, and rely on ATM machines. In many developing countries, these machines are popping up like mushrooms! You should only carry enough local cash to safely get you to the next ATM machine. Usually an equivalent of $100 will be enough.
This is what you should carry with you on a long trip:
1 debit card for daily use,
1 backup debit card hidden in one of your panniers,
1 credit card for special purchases (such as plain tickets). Don't use this card for daily purchases, as it is not as safe as a debit card (with code),
Always try to put your valuables in as many different places as possible, and of course don't dig into your secret supply in the middle of the street, as some interested eyes might be watching you.
Carrying money on your stomach inside a waist pocket will be very uncomfortable on the bike. A great alternative is a money belt.

===
Accessing Your Money Abroad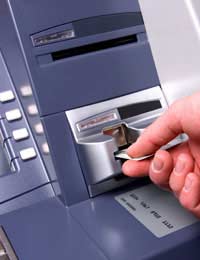 The question of how you access your money while abroad has much to do with where it is to start with, but you'll be happy to know that the UK is a world leader in the financial services industry, which allows us Brits the luxury of security and convenience just about wherever we choose to go.
The general rule of thumb is to carry small amounts of cash – enough for day to day expenses – and have access to the rest of your funds in some more secure form such as travellers' cheques.
If you're going to a place where you'll have plenty of easy access to ATM machines, which is most of the developed world, then it's in your interests to use the more modern equivalent of travellers cheques – prepaid foreign currency cash cards.
Prepaid Cash Cards
Available from most major banks and exchange bureaus, these cards work just like your ordinary bank card, except in a currency of your choice. At the moment they're really only available for the most widely used currencies - US dollars, Euros and, for visitors to the UK, pounds. They offer all of the security features of any normal card – a PIN number is required to draw on them and your signature on the back identifies it as yours.

If you have internet banking, you can top up the credit on your card online from anywhere in the world. This allows you to be flexible with your budget. If at the end of your trip you still have credit on your card you can either save it for the next time you go abroad or have the remaining cash transferred back into your UK bank account.
Ordinary Bank Cards
If you're not well prepared enough to have a prepaid cash card in the currency of your destination, your ordinary current account card should work just as well, it'll just cost you a little more. Most ATM machines worldwide have a set charge of anything up to about £5 for allowing you withdraw cash. In addition, your own bank will also charge you a similar amount.

Since you pay a set fee for every withdrawal you make, it's in your interests to take your maximum allowance every time, however, given that there's profit to be made, you'll usually find that the limit per withdrawal is lower than it is in the UK.

Because of the ever-present threat of identity theft, banks are adding more and more security features to the cards they issue, and this can be infuriating if not incredibly problematic when you're abroad. If you use your card several times in a relatively short period of time it's liable to be blocked. Likewise, you may often find that it comes up invalid if you try to use it as a debit card. Advising your bank that you intend to use your card abroad should help avoid problems but if you travel a lot this can be a tiresome affair.
Credit Cards
Credit cards are useful for paying for things that your petty cash budget doesn't cover. This includes travel tickets and accommodation, as well as restaurant bills and shopping trips. Drawing cash on a credit card can be very costly however, and therefore should only be done in an emergency (such as when your bank card gets blocked). Make sure you know the PIN number of your credit card so that you can draw cash on it if you have to.
The World Beyond ATM Machines
Of course, all of the above methods for accessing cash rely on the abundance of ATM machines, but in some parts of the world you may find such a thing hard to come by. In this case, old fashioned travellers cheques are your best option. On the bright side, it doesn't cost much for a westerner to live comfortably in the developing world, so you still shouldn't have to carry around excessive amounts of cash.

Internet banking is highly recommended for keeping an eye on your finances while you're away, as is keeping you bank's phone number handy in case you should need assistance urgently.

If the worst happens and you get robbed of everything including your passport, the only thing you can do is get to your nearest British consulate by hook or by crook, probably relying on the compassion of strangers to help you. If you have your passport, you can receive cash from friends or relatives via a long distance cash transfer, while a good insurance policy may just get you some emergency cash.



Related Articles in the 'Managing Money' Category...
===
Bicycle Touring
Tips & Advice
(see all Equipment Pages)
Touring Bicycles
Panniers
Racks

Saddles
Tires
Lights
Fenders
Tools and Spares
Tents
Sleeping Bags
Camping Mattress
Camp Stove
Water Filter
Pots and Pans
First Aide Kits
Solar Power for Camp
Bike Maps
Preventing Flat Tires
Bike Computer
Cargo Trailers
Kick Stands
Pedals
Handelbars/Grips
Helmet
Bike Shoes
Bike Touring Shorts
Sponsors (how?)

Click to see the full line of Ortlieb bags for sale
I have used several brands of bicycle panniers and highly recommend Ortlieb. See Why I switched to Ortlieb waterproof Panniers?

---
Tents and ground cloths
Sleeping Bags
Camping Mattress Pads
---